Update 11/16/2023
Miss Maribel is doing wonderful in her new home. Later this week she will have another heartworm test. If the test is negative and her health allows  we will move forward with her needed vetting. She has a growth by her eye that is effecting her vision, a suspicious bump above her other eye a growth on her elbow and desperately needed dental care.
Update 4/23/2023
Miss Maribel has moved to a Foster to Adopt home. Once her veterinary care is complete she will be officially adopted.
Update 4/7/2023
Maribel is ready for her forever family. She needs additional vetting but that can be done while she is living with her forever family. The rescue will continue to pay for her vetting care. Maribel is good with other dogs, cats and little children.
Update February 3, 2023
Maribel was seen by the vet yesterday and everything went well. Maribel has gained 15 pounds! Her ear infection is improving but not completely gone so she will continue her. prescription. The lump in her mammary chain is no longer there. We will soon be able to schedule her spay.
Update January 19,2023
Our sweet Maribel was seen by the vet today.
The vet confirmed Maribel has a body condition score of two. She weighs 74 pounds. She is having several small high protein meals each day.
She has a very bad infection her left ear and has for some time. Her ear drum has ruptured, the nerves in her face have been affected, causing her face to droop and her eye to not work correctly. She has been prescribed an oral antibiotic, ear drops and drops to keep her eye lubricated. She also has a small mass above her left eye.
Her four canine and twelve incisor teeth are fractured at the gum-line and will need to be removed.
She has firm lump on one of her mammary glands, it appears that she has recently had puppies and it's possibly mastitis. She has a skin infection down her middle between her mammary chains.
Maribel is also heart worm positive.
Our first priority is her weight and the infections. Then teeth extraction, the mass by her eye, the lump on her mammary gland, heart worm treatment and her spay.
She will be seen by the vet again in two weeks.
Intake January 17, 2023
There is a new girl in town!
A very special girl that we have named Maribel!
Maribel needs a great deal of care, the photos of her body tell a sad story.
She has a body condition score of 1-2 out of 9. She will have her first vet appointment Thursday. Her weight is a concern and she has a sore on her jaw that affects her eating.
All of our rescues are spayed/neutered, up to date on shots and micro chipped before being placed. Completed application, vet reference and a home check required. We do NOT ship or fly rescues as it's too stressful on them. For additional information please email us  info@ddbrescue.org
Dogue de Bordeaux Rescue is a foster based, all volunteer, 501(c)3 non-profit charity dedicated to rescuing neglected and abandoned Dogue de Bordeaux, rehabilitating and re-homing them into loving forever homes in the continental United States.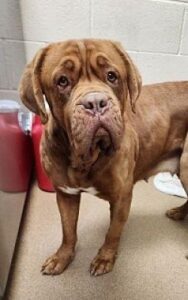 May be placed in a home with small children